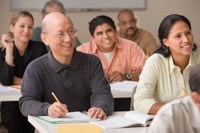 On this blog, there is a MENU item called CLASSES, that contains a link to a list of English classes offered in this area. This includes:
Formal classes – some are free, some have a cost – where you are registered, and attend classes usually once or twice each week for many weeks.
Conversation Groups – these are free and informal.  They usually meet once a week for a few hours, and you attend when you can.
In this long posting, we'll give you an update on formal classes offered in MetroWest.
FRAMINGHAM
Adi's Language School  

Status: Space Available
Classes

Offered at different levels, and different sized groups
Current classes meet for 2 hours – once or twice a week (2-4 hours/week), but more hours/week is possible
Max class size 16.  Certificates issued.
Flexible class schedule (offered Mondays through Saturdays), including online

Other services available: Citizenship class; TOEFL preparation class; individual tutoring; profession-specific language training, classes for other languages (including Spanish, Portuguese, French, Italian, Romanian); translation/interpretation services
Cost: $10-15 per class hour (depending on size of the class)
Facebook page
Location:270 Concord St. Room #203
Contact: (Phone or WhatsApp) 857-201-1350  Adriana Staff (Director)
BRACE (Brazilian American Center)

Status:

Please come to the BRACE office to register for classes
Office hours 10am to 9pm Mon-Fri

Classes offered at 3 different levels; 2 days a week from 7:00 to 9:00 PM (4 months)

Level 1 (Mon/Wed – or – Tue/Thu)
Levels 2 and 3 (Mon/Wed)

Cost: $250 per class (includes textbook)
Location: 560 Waverly Street
Facebook page
Contact: 508-628-3721 or 508-628-0360  brazilian.american.center@gmail.com
Learn English in a warm community setting
FAESL (Framingham Adult ESL Plus)

Status: Next lottery registration event is on Thursday, August 16th
Two semesters:  Spring (Jan/Feb – Jun) and Fall (Aug/Sep – Dec)
Classes offered at up to 10 levels

PM: Twice a week; Tuesday/Thursday 6:30 to 9:30 for 4 months
AM: Three times a week; Tuesday/Wednesday/Thursday 8:45 to 10:45 for 4 months

HiSet and Citizenship classes are also offered
Cost: Free
Office location: 31 Flagg Drive (Fuller Middle School)
Contact: 508-626-4282
Framingham State University

Status:

Next Summer Session begins July 9th
Information sessions for fall classes August 28-30

They offer a full range of levels, including advanced classes.  Some require a high school degree.
Community classes on Saturday mornings

Many different classes
6 weeks, 4 hours per week
Cost: $225

Community evening classes (many levels)

13 weeks
4 hours per week (Mon/Wed or Tue/Thu)
Cost: $450

Morning "core" classes (3 levels)

13 weeks
7 1/2 hours per week
Cost: $1520

Afternoon "focus" classes

Classes for specific topics such as public speaking or TOEFL preparation
13 weeks
4 hours per week
Cost: $640

Special advanced study for professionals
More information
Location:  O'Connor Hall, 100 State Street
Contact: esl@framingham.edu 508-626-4958

Para assistência em português ligue para 508-215-5725.
Para ayuda en Español llame al 508-215-5725.
Joan Brack Center at SMOC

Status: No spaces curently available.  Approximately 6 month wait after you apply.  Apply any time at SMOC office at 7 Bishop Street.
Classes go for three months – beginning at start of January, April, July, October
"Essential ESL" class offered Tuesdays, Wednesdays, Thursdays from 9:00 to Noon
Basic ESL class Tuesdays, Wednesdays, and Thursdays from 1:00 to 3:00
"Waitlist" class with computer activities on Monday mornings 10:00 to Noon
Cost: Free
Contact: Taryn Barros 508-620-2676
Keefe Tech Evening Program

Status: Next classes begin in September
4 Levels of ESL class plus Business ESL
Fall (Sep-Dec) and Spring (Feb-Jun) Semesters
Classes:

Tuesdays and Thursdays 6:00 to 9:00 for 11 weeks
Business ESL 6:30 – 8:30pm on Wednesdays, for 6 weeks

More info: Spring Catalog
Cost: $285
Contact: continuinged@jpkeefehs.org  508-935-0202
LEAP (Learning English for Adults Program) at First Parish Church

Status: Registration is currently closed

Level 2 High Beginners class (Tues 3:00 to 4:30)
Level 3/4 Intermediate grammar class (Thu 10:00 to Noon)

Classes offered at beginner and intermediate levels
Morning, evening, and Saturday classes
Cost: $10/year, plus book
Contact: Eva Benda 508-872-7125
Mass Bay Community ESL

Status: Open House with information about Fall 2018 ESL classes: August 23rd
Classes begin in mid-September
Classes offered at 3 levels

Beginner and Advanced: Tuesday/Thursday evenings, for 10 weeks, 4 hours/week
Intermediate: Monday/Wednesday eves for 10 weeks, 4 hours/week
Pronunciation and Conversation: Tuesday/Thursday eves for 10 weeks, 4 hours/week
Advanced: Monday/Wednesday eves for 10 weeks, 4 hours/week
Intermediate (in Wellesley): Saturdays 9am to 1pm for 10 weeks

More info: Classes brochure
Cost: $300
Locations
Contact: cce@massbay.edu  508-270-4100

MASS Bay College ESL (Framingham and Wellesley)

Status: 3rd summer session begins July 9th
College credit classes, multiple levels
Cost:

$636 for classes 3 hours/week (16 weeks)
$1272 for classes 6 hours/week (16 weeks)

Locations
Contact: esl@massbay.edu 781-239-2511
ProGente Connections  (Classes available in  both Framingham and Marlborough)

Status: Contact the school to set up a placement test.
Classes (1 day a week for 10-weeks)

Separate classes offered on Tuesdays and Thursdays

Childcare may be available
Cost: $40 per class, plus book
Locations:
Contact (Email or call): Raquel Riberti-Bill  (413) 636-9245
Studio 3 English

Status: Registration open now for Fall classes beginning August 27th

Special one-month Intensive English program

Register by May 3
5 mornings a week, July 2-27
Cost: $1980 (includes some lunches and trips)

Community English classes (Max 12 students per group)
Other services available: Customized Instruction, Business English, Accent Reduction, Private Tutoring
ESL Classes offered Mondays through Thursdays for beginning, intermediate, and advanced students (more info)
Summer one-month intensive English program

5 mornings a week (July 2-27)
Cost $1980 (including some lunches and trips)

Class times:

Tues/Thurs 9:30-11:30am
Mon/Wed 7:30-9:30pm
Tues/Thurs 7:30-9:30pm

 Cost:

$320 group classes meet 2 days per week for 2 hours per class (32 Hours/8 weeks)
$25 Registration & Materials Fee (not charged every session)
MILFORD
Milford Community Use Program

Status: Next classes in the fall
Two adult classes

2 hours per week for 10 weeks – on Monday nights (6:00 to 8:00)
Beginner class on Tuesday mornings 10:00 to Noon

Location: Milford High School, 31 West Fountain Street
Cost: $150 Milford resident; $165 non-resident
Contact: 508-478-1119 (M-F, 8:30 to 4:00 pm)
HUDSON/MAYNARD
MARLBOROUGH
WELLESLEY
Wellesley Library ESL

Status:  Limited space is available. Registration is required.
The main registration is in September, but you can try any time.

Note: Only for people who live or work in Wellesley

Many different classes that meet mornings or afternoons, one day a week, for 1 to 1 1/2 hours
Spring Class Schedule (from last Spring – 2018)
Cost: Free
Location: Wellesley Free Library, 530 Washington Street (and also community centers)
Contact: Karen Evans,  wellesleyESL@minlib.net, 781-591-1247