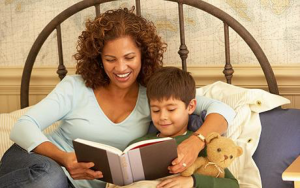 … or read to your grandkids, nieces, nephews, little cousins, dog, – or yourself.
Children's books are shorter and easier to understand.  They're really good practice for someone learning English. Reading to a child can help you with:
Vocabulary – learn new words
Comprehension – better understanding when you read
Pronunciation
And – you will learn faster when you use English for something you enjoy.  (It's really good for your child too!)
   March 2nd was the birthday of the famous children's author Theodor Geisel – "Dr. Seuss".