Independence Day is also called The Fourth of July or sometimes, July Fourth.  It is a federal holiday in the United States.  It is the day that the United States declared its Independence from Great Britain in 1776.
On The Fourth of July, many people have cook-outs.  There are parades in many communities (including Natick and Milford).  Some places have Fireworks displays for everyone (Here's a list).  But in some places it is illegal to have your own fireworks.
What will you do to celebrate July Fourth?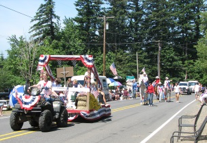 How old will the United States be this Fourth of July?  (click on the flag to find out) 

Whatever you decide to do, we hope you have a great day!
— Thanks to Christine for this article —