Rosetta Stone is a very good app to learn English (and other languages).  It's available for Apple and Android phones and tablets.  The app is also very expensive – $199 – but you can try the first lesson for free.  (Lesson 1 gives you about an an hour of practice or more)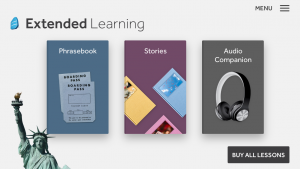 With this app you can learn vocabulary and grammar and practice your pronunciation.  You can also press "MENU" to get to "Extended Learning" for Lesson 1, which gives you:
more than 160 common English phrases (Ex: "How much does this cost?"; "We need help.")
a story that you can read, listen to, and record yourself reading out loud
8 minutes of basic sentences – Listen to these and then try to speak them
The free part of the app is only a small part of the whole package.